Service packages
Oxigo – a service good as gold
When purchasing an oxygen concentrator from Oxigo, you can always expect excellent service. Every concentrator shipped by us first undergoes our quality check. We equip the concentrator with an extra soft nasal cannula, if possible we program it to your preferred language and of course it is tightly packed to ensure it arrives at your home intact.
Next to our service beforehand, you can count on our after-sales service. Should you unexpectedly experience a problem with your oxygen concentrator, we will take care of this. We call this our Bronze service package. You can also opt for even more service, by choosing the Silver or Gold package. This is an overview of our three service packages.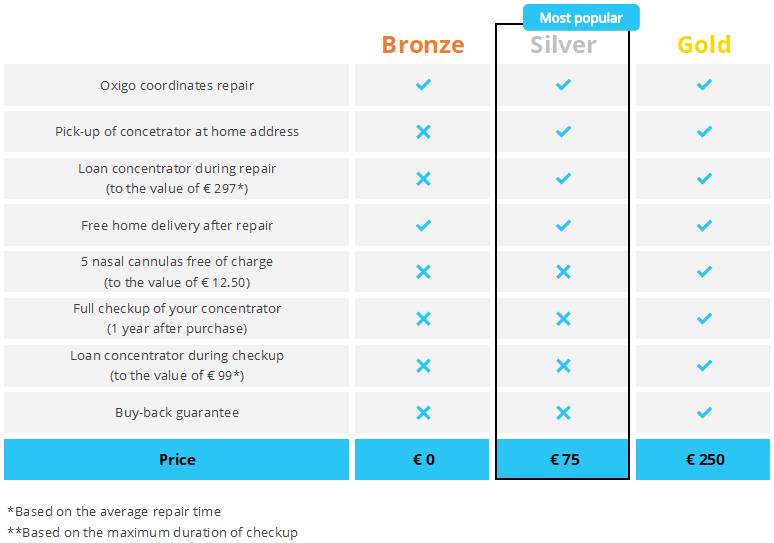 Check-up
If you choose the Gold package, we will do a full check-up of your oxygen concentrator 1 year after purchase. The check-up is done at our office and should be requested with us between 11 and 13 months after the purchase of your concentrator.
We will check the concentrator rigorously which takes about 2 working days. Of course you don't want to do without a concentrator during this period, so we will provide you with a similar loan device. Our courier will pick up your concentrator from your home and leave the loan device at the same time.
After the check-up our courier will come to your home to exchange your own concentrator with the loan device free of charge.
Repairs
If your oxygen concentrator has an issue, one of our product specialists will try to solve the issue. If it turns out it needs to be repaired, we will help you to get the concentrator back to you in perfect shape as quick as possible. Depending on your service package, these are the steps:
We will coordinate the repair process for you. With a Bronze package, we ask you to ship the concentrator to us. With a Silver or Gold package we arrange a pickup by our courier at a day convenient for you. The courier will exchange your defective concentrator with a similar loan concentrator.


If possible we will take care of the repair. If we can't, we will forward the concentrator to the manufacturers repair center. All you have to do is await our status updates of the repair.


After repair the concentrator is delivered back to your home free of charge. If you have a loan concentrator, the courier will exchange it for your own.
Buy-back guarantee
You don't need you oxygen concentrator anymore? With the Gold package, we guarantee we will buy back the concentrator from you during the warranty period. The concentrator needs to be functioning properly. If it isn't, we reserve the right to refuse buying it back.
Before you send the concentrator to us we will give you a price indication. Only after we have received and checked the concentrator, we can give you an exact amount.
Conditions
The above mentioned shipments and pick-ups only relate to addresses within the EU. Shipping outside of the EU is possible, but at additional costs.
The service packages are not transferable, they are only valid for the person who purchased the concentrator and his or her partner.