A major advantage of a portable oxygen machine is that you can use it wherever you are. This device is also suitable for home use, especially the models that provide both continuous flow and pulse flow. Continuous flow is often necessary if you use oxygen at night. All portable concentrators are FAA approved, which means that you can use them in a plane.
Why a portable oxygen concentrator (POC)?
Portable oxygen concentrators significantly increase your comfort and freedom of movement during your oxygen therapy. Ideal for when you go shopping, relax on a sunny terrace or on vacation. With a portable oxygen machine you can stay as active as possible. All systems are easy to use with large buttons on the control panel.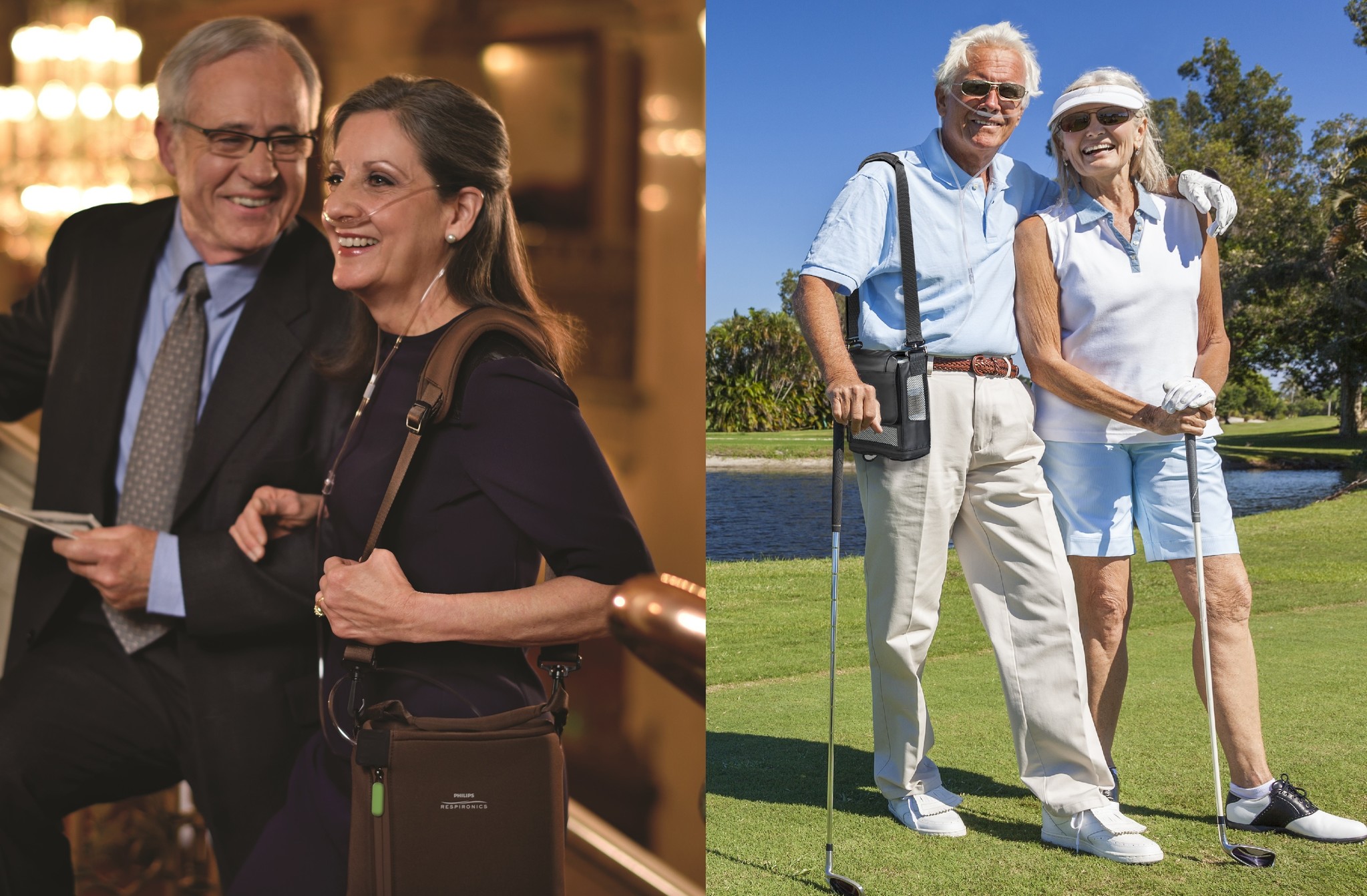 Weight
With a POC, weight plays an important role if you want to carry your machine with you. These oxygen devices are much lighter than stationary concentrators, which are intended for home use only. You are free to go wherever you want! If you use the double battery, then the carrying weight increases. If weight is very important for you, the Inogen One G4, the Inogen Rove 6, the Zen-O lite or the Philips SimplyGo Mini will suit your needs.
Battery and run time
All portable oxygen concentrators have two battery options: the standard or double battery. With a double battery, your device is somewhat heavier, but you can use your machine for a considerably longer time. Do you use your POC with a large battery? In some cases, you can use it up to 13 hours (the Inogen Rove 6, for example). Please note: the higher your oxygen setting, the shorter the battery time. Normally you charge the battery on AC power. In addition, most portable concentrators can be charged on 12 volts with a supplied DC cable. You can also order an external battery charger from us, which allows you to charge a battery separately from your concentrator quickly and easily.
Carrying style
The carry mode is very important for this type of medical equipment. Portable oxygen concentrators are perfectly portable in your hand with the carrying handle or over your shoulder with a shoulder strap. The carrying bag is often equipped with a special strap to put over the telescopic handle of your suitcase or trolley. Very useful when traveling! Some portable oxygen concentrators are somewhat heavier and larger, for example the CAIRE Eclipse 5. You can easily transport these larger machines with a cart. With the Inogen One G4, the Inogen Rove 6, the Philips SimplyGo Mini and the GCE Zen-O lite you can optionally choose a backpack with enough storage space for your concentrator, accessories and personal belongings. This way the weight is evenly distributed over your back. Very comfortable!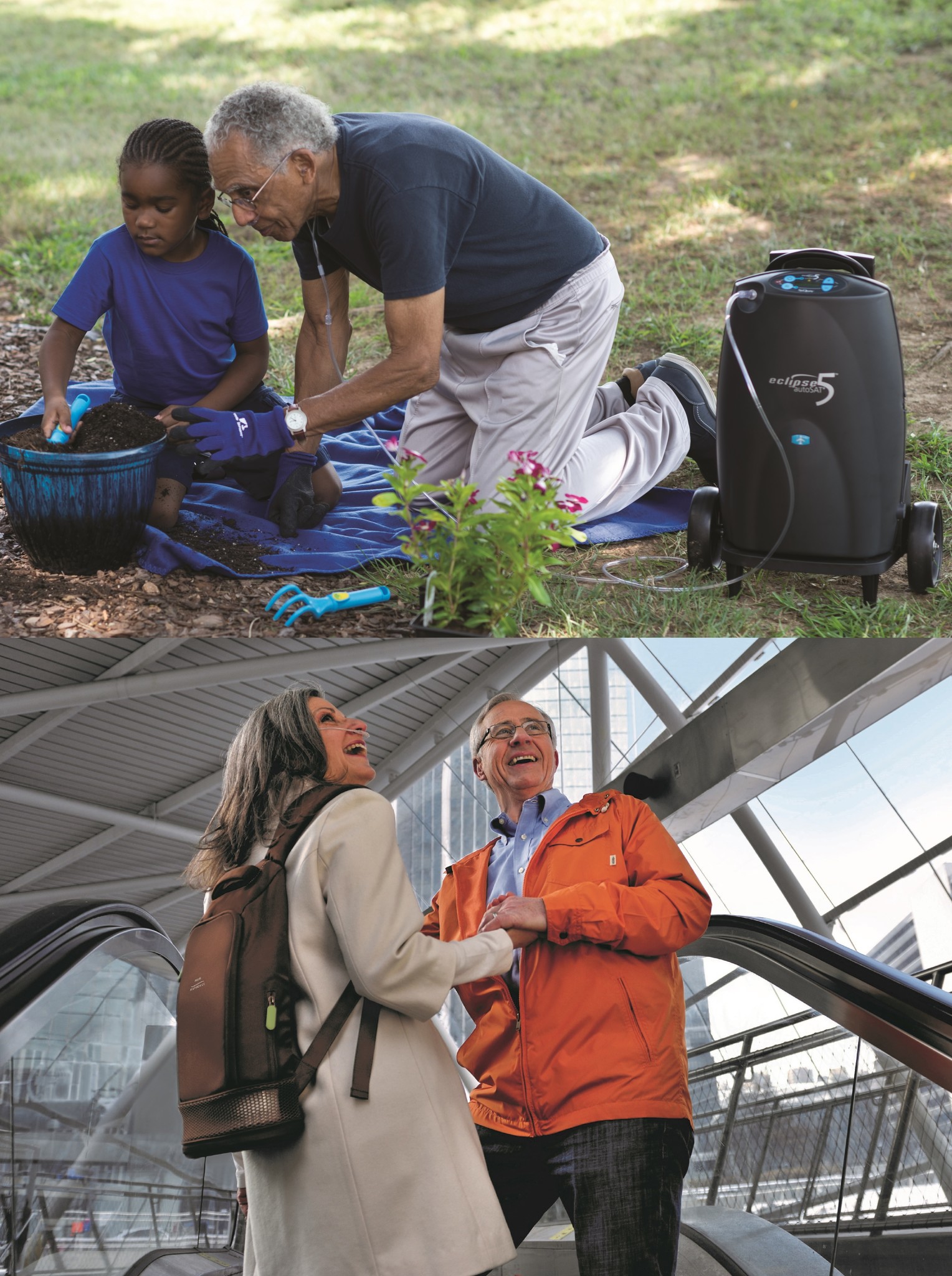 Continue flow vs. Pulse flow
Oxygen concentrators with a continuous flow have more capacity (they supply more oxygen). That's why they are heavier and less compact than devices that deliver only pulse flow. There are also portable devices that deliver both pulse flow and continuous flow: the Philips SimplyGo and the CAIRE Eclipse 5, for example. The CAIRE Eclipse 5 has more oxygen settings and a longer battery run time, but the SimplyGo is easier to transport: you can carry it over your shoulder or in your hand. Continuous flow is recommended for night use and for people for whom it is explicitly prescribed by their doctor. A pulse concentrator is more efficient, so it has a longer battery run time. A device with continuous flow has to work harder: therefore, the battery run time is shorter.
Accessories for extra comfort
In our range you'll find accessories for your POC to make your oxygen therapy even more comfortable: backpacks, external chargers and replacement articles for your concentrator (columns, filters and batteries).
Our goal is to make your life as easy as possible. On our website you can easily compare the most important properties of a maximum of 5 products by clicking on "Add to comparison list". Then click on the blue button with "Compare products" for an overview. Please contact us if you have any questions.