The Inogen One G2 is the most powerful of all Inogen One concentrators. The concentrator has six oxygen settings, of which every setting roughly compares to 1 liter of oxygen per minute. Already some time ago the Inogen One G3 has been upgraded from 4 settings to 5 settings. With also the extremely small and lightweight Inogen One G4 already there, the decision has been made to discontinue the procution of the Inogen One G2.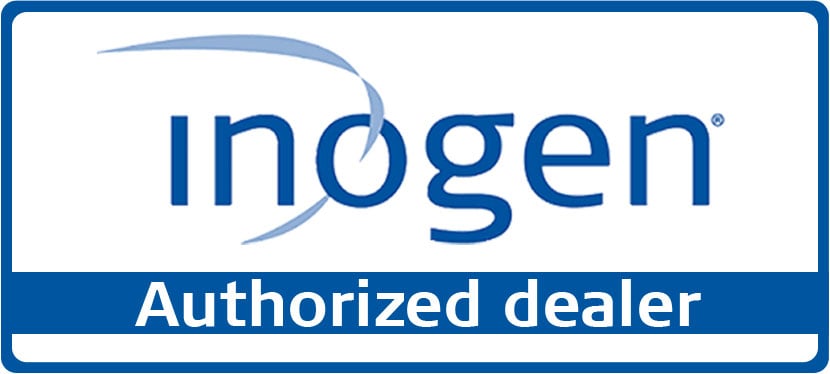 There are nonetheless still some clear pros for the Inogen One G2: it is the most quiet of all Inogen One concentrators with only 38 dB, it has the longest battery runtime and the most oxygen settings.
The Inogen One G2 is an all in one portable oxygen concentrator: it is small, lightweight, efficient and easy to use, whether it is in the living room, in your car and even in a plane. The Inogen One G2 offers complete freedom without worrying about running out of oxygen. 
Small, lightweight and quiet
With its length of 24 cm and height of 24 cm the Inogen One G2 has about the size of a piece of paper. Weighing only 3.2 kg you can take the concentrator anywhere. On the included caddy, in the carry bag with shoulder strap or in the optional backpack. And because it is so quiet (38 dB on setting 2) you or the people around you will hardly notice it is running.
Energy efficient
The Inogen One G2 is very energy efficient. That's why you can be on the road for up to 5 hours with the standard 12 cell battery. And even up to 10 hours with the double 24 cell battery. In the car you can connect the concentrator to the 12 volt power supply with the included DC power supply. And while the concentrator is charging the battery, you can keep using it. So when you arrive at your destination, you will have a fully charged battery. Of course you can also use the concentrator on AC power.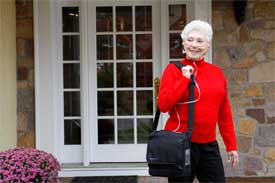 Easy to use
The Inogen One G2 is very easy to operate. The concentrator has a lighted display, so you can read it at any time. We will set the menu to the language of your choice. The display will show you the remaining battery runtime, the current flow setting and any warnings. You can also read how many hours the concentrator has been used.
Biggest advantages
A true lightweight: only 3,18 kg including standard battery
Compact: 27,2 cm long, 9,9 cm wide and 24,2 cm high
Extremely quiet: 38 decibel on setting 2
Easy to read lighted LCD screen
Included with the system:
G2 concentrator
Small (12 cell) or large (24 cell) battery
AC Power supply
DC Power supply
Carry bag
Caddy
Nasal cannula
3 years warranty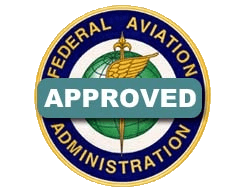 Accessories
To get a better view on the Inogen One G2, watch this television commercial by Inogen (the commercial no longer runs, the phone number doesn't work anymore):